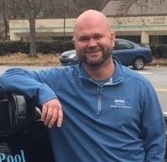 I found my knack for taking a leadership role early on in my childhood. Being the middle child with an older brother with severe Cerebral Palsy, I had to be comfortable with who I am and be able to stand up for not only what I believe in, but also for those who can't stand up for themselves. When we would go out as a family, I would see people glance and stare at my brother and at first, it made me embarrassed. I quickly gained strength from it when my dad said, "Steve (my brother) doesn't look embarrassed, does he? Then why should you be? The only thing that would embarrass him is to know that you are embarrassed of him." That stuck with me forever.
I grew up in a small farming town in southern Indiana called Floyds Knobs, about 15 miles north of Louisville, Kentucky. Both parents being teachers, and my father the head football coach at Floyd Central High School, I got equal doses of academics and athletics at home. I was pushed to always do my best, always be a team player, and always lead by example.  In addition to football, basketball, wrestling, and track, I was involved in Boy Scouts, Civil Air Patrol, and studied 3 different languages (no, I can't speak any of them fluently!). I was elected as class president in 9th grade and remained our class president through high school.  I was nominated and appointed to the United States Air Force Academy by then Vice President, Dan Quayle. My time at USAFA further molded my leadership skills.  I was able to not only learn what type of a leader that I wanted to be, but also what type of leader I didn't  want to be.
After getting out of the Air Force, I was professionally trained as an EMT and my first job was at Six Flags Kentucky Kingdom in the waterpark. Having been a lifeguard growing up, it was a perfect situation.  Before the summer was over, I was Assistant Manager of the water park- and the rest is history. After managing the water park, I was hired as the Senior Aquatic Director for the YMCA of Greater Louisville- managing all maintenance, staffing, programming, and training aspects of the aquatic facilities. With the YMCA I held a number of certifications, most notably as a national trainer of lifeguard instructors and taught classes all over the Eastern seaboard.
In 2001, I was offered the position of General Manager for a new pool management company starting in Lawrenceville, GA, so off to Georgia it was- newly married with my first son on the way! I successfully led that company until 2009, growing consistently every year.
I left the pool business in 2009 and switched gears totally and accepted a position with Team Pest USA as a residential sales representative. I was successful in that industry and was promoted to branch manager, but swimming pools were my first love and I couldn't turn my head when an opportunity arose to get back into the swim of things.
I came on board with Sears Pool Management in November of 2014 and haven't look back. I was blessed to join an extremely knowledgeable and tenured staff focused on delivering a high level of customer service and attention to detail.  Having re-earned my water wings in 2015, I am excited to meet 2016 head-on!  I am thankful for all of our outstanding customers and our top-notch property managers that we work with on a daily basis, and also for all of our new customers we have this year.
May 2016 bring you and your family as many blessings as you deserve!
Swimmingly,
Jimmy Don Murray
Comments
comments